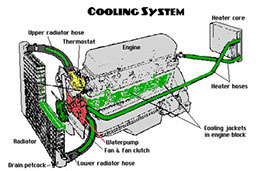 A vehicle's cooling system is designed to protect the engine from the destructive forces of too much heat. If the system isn't in good repair, simple tasks such as sitting idle in rush-hour traffic can cause a vehicle to overheat even when temperatures drop below the freezing mark.
However, if you do get caught in traffic and you notice the temperature gauge beginning to rise, Narellan Auto Radiators says there are some things you can try to keep your vehicle from overheating.
Including;
• Give it a little gas. This will enable the vehicle to get rid of some of the engine heat.
  • Turn on the heater. The heater will draw some of the heat from the engine to the inside of the vehicle.
  • Turn off the vehicle. Once you safely have pulled off of the road, turn off the vehicle to let the engine cool down.
  • Finally, have your vehicle inspected by a radiator specialist. Radiator specialists have expertise in targeting cooling system problems, which could range from a clogged radiator core to low engine coolant to an inoperable engine fan.